DESCRIPTION
WOWIBROIZOL rubber vibroinsulating plates are designed for vibration isolation and anti-noise insulation of rail subgrades, machinery and equipment, residential buildings and professional recording studios to reduce the noise from dynamic impacts, such as rail vehicles, as well as the vibration impact on protected objects e.g. museums, vintage churches, and the like.
The plate structure and proper application, e.g. on track subgauge, make a railway track so provided with better than traditional standards in terms of:
vibration lower by at least 60%,

noise emission lower by at least 8 dB,

more durable railway track structure,

no need to use special equipment for installation,

shorter work duration.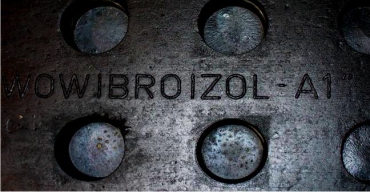 You can add a file with extension doc,docx,jpg,jpeg,pdf,rtf,tiff:


* Fields marked with a red asterisk are mandatory fields to be filled in, other fields of the form represent optional information.
The content of this website constitutes only an invitation to enter into a contract within the meaning of the Act of 23 April 1964 of the Civil Code. read more