European Medal
The European Medal is a non-profit, nationwide initiative of the greatest importance for entrepreneurs, the institution is accredited with the European Commission – the European Economic and Social Committee and the Business Centre Club.
MAŁOPOLSKA REGIONAL LEADER 2014
Mining Success of the Year 2014
Wolbrom Conveyor Belt Factory was the winner of the sixth edition of Mining Success of the Year competition in the category of Innovation. The awarded product was the energy-saving belt 1600 GTPeM ST-2500/10 + 6V / L. The awards were handed out on Thursday (February 26th) at a gala held in the Juliusz Słowacki Theatre in Cracow. The competition is organized by the Mining Chamber of Commerce, along with the School of Underground Mining.
Credibility Leader 2013
As a result of the creditworthiness study carried out by international business intelligence agency Creditreform, Wolbrom Conveyor Belt Factory SA was ranked among the 100 best companies evaluated in 2013 and listed in the prestigious "Credibility Leaders 2013" ranking.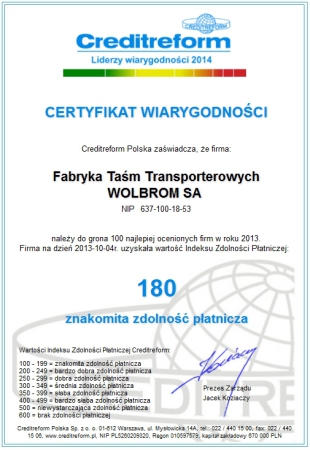 Certificate of Business Credibility
FTT Wolbrom SA was awarded the "Certificate of Business Credibility" for the highest creditworthiness grade. Certificate of Business Credibility (CWB) is an award given to companies whose financial performance warrants a very good standing, capacity and liquidity, and the level of debt and recorded overdue payments is negligible.
Business Gazelles 2012
We are very pleased to announce that Wolbrom Conveyor Belt Factory SA won the thirteenth edition of "Puls Biznesu" magazine's ranking of the most dynamic small and medium-sized enterprises. The Business Gazelles 2012 Gala was held on 13 February 2013 in Cracow, at the Aviation Museum. The fastest growing companies from the Malopolska and Świetokrzyskie regions were awarded at the Gala.